New Product Introduction: HP-G66 Galvanizing Tag
YS Tech is happy to introduce the HP-G66 Hot Dip Galvanizing Tag.
The HP-G66 Tag is designed specifically for the Hot Dip Galvanizing Process. Because it is resistant to all parts of the process from degreasing to Zinc Coating, the tag can be attached at the beginning of the process and remain with the product through the molten zinc bath for consistent readability at the end of the Hot Dip Galvanizing Process. HP-G66 Tags are a great way to improve product identification through the Galvanizing Process.
<Features>
◆ Degreasing, Pickling, Flux, and Molten Zinc Bath processes can all be managed with one tag.
◆ Can be printed on site using a commercially available Thermal Transfer Printer
     (No need for an expensive laser engraving printer).
◆ Ability to easily format tags in any desired layout, including barcodes or QR code.
<Track Record>
Currently being used in Galvanizing companies in Japan, Canada, and Other Countries Worldwide.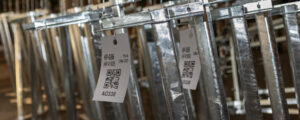 ---