New Product Introduction: HP-CBR13
YS Tech is pleased to introduce the HP-CBR13 label.

The HP-CBR13 label was developed for the heat treatment of metals. HP-CBR13 labels resist discoloration that can occur when labels are put through heat treatment processes, especially when in contact with metals. Improvements have been made to increase character visibility and barcode readability. Regardless of the material being heat treated, HP-CBR13 labels offer enhanced resistance to discoloration.
<Features>
◆ Heat resistance up to 1200℃ (2190°F)with minimal discoloration to print layer.
◆ Custom sizes available.
◆ Ability to easily format tags in any desired layout, including barcodes or QR codes.
◆ Can be printed on site using a commercially available Thermal Transfer Printer.
◆ Ability to print data from internal management systems.
<Comparison of Labels After Heat Treatment Process>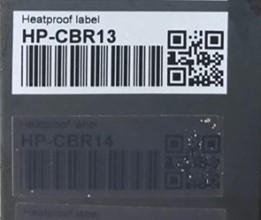 Upper Label: HP-CBR13
Lower Label: Existing label without discoloration resistance
Applied to: Stainless Steel
Heat Treatment Conditions: Vacuum Heat Treatment 1000℃ (1830°F) x 8 hrs.

Contact Us for further details about this product.
---