New Product Introduction: High Temperature Warning Labels
The HP-CBR CX2 (Yellow) can be used as a Warning / Caution Label for equipment or locations that are subject to high temperatures during the manufacturing process.
These high temperature Warning Labels are available in 2 colors, White or Yellow, with black print. The maximum heat resistance is 1200 degrees Celsius or 2190 degrees Fahrenheit*, and can be used in high temperature environments, where standard caution or warning stickers will not survive.
In addition to helping ensure worker safety in high temperature environments, barcodes can also be added to the labels in order to manage products or tooling maintenance.  
<Features>
◆ Heat Resistant up to 1200c (2190F)
◆ Available in any size
◆ Easily customizable design, including barcodes and QR codes
◆ Minimum order quantity from 1 pcs
<Product Image>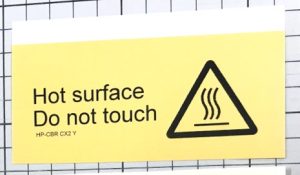 (*Maximum heat resistance temperatures may vary slightly depending on the object or the environment)  
Contact Us  for further details about this product. 
---