Crucible management by 2D code
Introduction of HP-CBR12 which is for crucible management.
HP-CBR12 can be used for heating process up to 1300℃. (2370℉)
It also has chemical resistance and scratch resistance.
Once it is applied on crucible and baked, 2D code on crucible can be used for heating process like ash content measurement.
Then, it is suitable for repeated use after washing as many times as desired.
Label is integrated on crucible, so it cannot be removed.
Any kind of printing of character and barcode is available to print on label at production site.
Installation example is at food company, analysis company and so on.
Below picture is example of crucible after label is applied.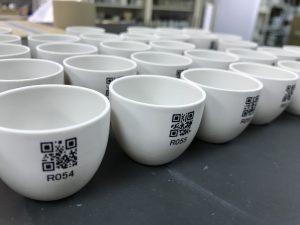 ---